Conscious Content Generation
We create a conscious life by how we handle tiny and very specific moments ~ Gay Hendricks
What is Conscious Content Creation?
Conscious content creation is a process where who you are and what you want to be found for gets integrated into a conscious strategy. This includes SEO and optimized kick butt writing skills. Great content offers you a chance to share across social platforms with the specific intent, not just of filling a page with words, but of creating a purposeful presence online.
Content generation involves the contribution of information to any media, especially to digital media for use in different contexts to appeal to a variety of audiences.  Sometimes words are used as place cards to fill a page without adding any extra value. For instance, you can write about the next kale smoothy with the best vocabulary on the planet, but is that what your business is about?
Discriminating wisdom means seeing clearly ~ Jack Kornfield
Content marketing is used to drive traffic to a website, promote a product, and generally make sure Google sees you as relevant. It is organic, should keep growing and flowing  as well as provide a still point for an audience to remember to return to, whether for insight, your contact info, or to learn from.
What Do I Write About?
My favorite expression when people ask me what I write about is to say "Writers Write". In fact, look for conversations on Twitter with the hashtag #writerswrite! That said, I try to listen, use an authentic voice, and research. When I write for a client I think systematically with conscious intention to portray their brand or service. But when I think about it, most of my writing stems from conversations with people.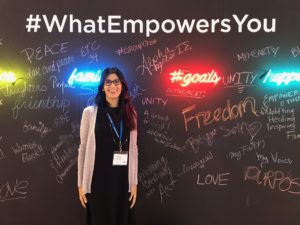 Conscious content generation is like cooking. You need the write, I mean, right ingredients then mix in your key word research, SEO best practices, and the authenticity of the writer's voice. I recently did a post for an online dating site that is a perfect example. They asked me to sell the new changes to their web presence via a blogpost. Here is how I did it: READ ME