Keeping the Social in Social Media
No doubt you have at least one social media profile, whether it be Instagram, Pinterest, Facebook, or Twitter. We have become a society who probably picks up the phone less than past generations, relying on texting and IM chats. We document our travels, food preferences, shout out birthday greetings, and curate coats on a variety of different platforms.  This can be a way to have online (social) relationships with people we know but live far from. Personal social media is pretty social. We engage.
Business Use of Social Media
So many awesome people working in digital marketing to inspire new campaigns. The most successful ones are cultivating a purposeful presence online by building engagement and getting people to be excited about their products. While you may think that getting likes gets you noticed, getting your content shared, and sharing your own content, has marketing potential.
Once you've chosen the right social media technology and created a great participant experience around a compelling purpose, only one question remains. Will they come? Maybe not. ~ Anthony J Bradley/Mark P McDonald.
My friend Ty made me into a meme: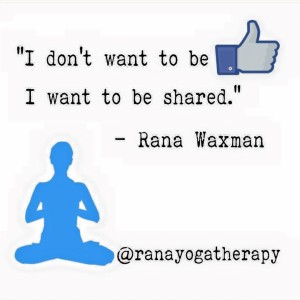 Here are a couple of reasons I like to use social media channels:
To get my blog out there
To create conversations around something I might be doing, such as writing a new post, or advertising an event
To build engagement with audiences. Maybe we can share each other's wisdom, or learn new things
To network. You can meet interesting people who share your interests, or want to hire you.
Good for organic SEO.
Social listening
Often overlooked, some pages get a lot of comments but don't seem home. It's like not answering your phone. I try to answer questions, or at least thank people for their comments. I would recommend, if you are trying to build a faithful network, or audience, that you check your page and at least "like" the fact that someone left a remark. Think long term fan base. Think engagement.
My personal preference is to keep my posts short and sweet, use a link to drive traffic to my site or a particular blog post. Long winded commentaries do not necessarily feel like conscious content.
If you are looking for a few tips to make your Facebook business page more fantastic check out this paid piece I wrote here. You can also contact me for social media management!